Även om vi ligger ganska lågt med att signa nya band just nu tar vi gärna mot demos. Tyvärr så får vi så många demos att vi inte hinner med att skicka svar på alla demos vi får. Men vi lyssnar på alla som vi får. Skulle vi vara intresserade så hör vi av oss. Genre mässigt är vi mest intresserad av Punk, Hardcore, pop, Hip Hop och skitig rock. Vi är framför allt intresserade av band som sjunger på svenska. Vi är inte intresserad Metal, elektronisk dansmusik, synthmusik, jazz, blues etc. Om du bestämmer dig för att skicka en demo. Bifoga svarsporto om ni vill få demon tillbaka när vi lyssnat.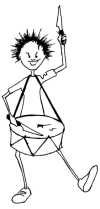 Beat Butchers and demos
Even though we are laying low when it comes to signing new bands right now, we gladly accept demos from unsigned bands. The sheer amount of demos we receive is so great we simply can not answer every band, but we do listen to each and every one we get. And if we are interested, you will hear from us. Our main interest lies in Punk, Hardcore, Rattling Pop, Hip Hop, Dirty Rock etc. with Swedish lyrics. Beat Butchers is not the label for various types of Metal or Electronic Dance music. If you decide to send us a demo, please include postage (stamps) if you want us to return the demo to you after listening to it.