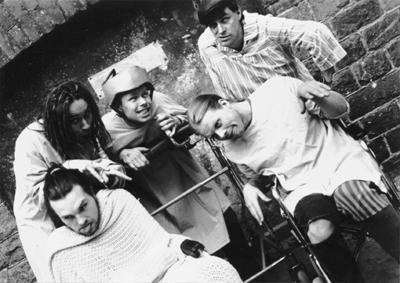 Krymplings started as an idea during august 1993 and was a fact after a meeting at Kafé 44 in Stockholm with all involved, except the founder of the idea (Jimmy Krympling). Even so, the rest of the Krymplings thought it was a good idea and started to work. Songs were written and sent to eachother for approval.

Four rehearsals and three weeks later the result was presented in form of a CD. During september and october 1994, they made an eighteen gig tour in just as many days, from Krokom to Lund. If we'll ever see or hear Krymplings again? We don't know.

Krymplings fotoalbum
Albums & CDs
Lyrics
Krymplings, Beat Butchers 1994, ORCD 14, Time: 31.58
1. Drömprinsessorna
2. Masturbation Blues
3. Burkluft
4. Mopeden
5. Herr Chaufför
6. Karlavagnen
7. The Lok Of Love
8. Tommy Värsting
9. Jag Vill Ha En Slav
10. Ni Blir Aldrig Av Med Oss
11. Dunken

Lyrics and music by Krymplings. Recorded, mixed and produced by Christian Edgren and Johan Johansson at Traxton Recording april-may 1994. Cover design and repro: Pär Wickholm. Photo: Cato E. Lein. Guests: Roger Karlsson - Vocals & Choir, Sara Edin - Violin, Niko Röhicke - Mandoline & Slide, Kung Qina - Choir, Johan Johansson - Guitar, Choir and Tambourine, Christian Edgren - Choir, Mike - Choir. Per Martin, Per Anders and Hans Mikael appears with kind permission from Birdnest.

The Greatest Hits Of The Very Best Of The Ultimate Definitivt (RABB9811CD, CD 1998 RABB Records) Song: Drömrinssesor
Bjeagle presenterar stolt Beat Butchers 20 års jubileum (Bjeagle Records, BEAR 003 2004) med "Masturbation blues", "Karlavagnen" och "Dunken".
Röjarskivan 2 Andra spyan (Ägg tapes & records) med "Dunken"
If you want to contact the band directly, write to:
Krymplings
c/o Sandgren
Sleipner vägen 7
184 52 Österskär
SWEDEN
Please include a self-addressed envelope with enough stamps (or international coupons) if you'd like a reply.