The Solar Lodge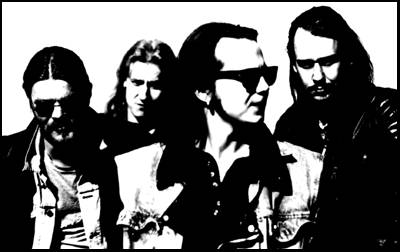 Around 1987, Tomas Sandqvist (bass) played in a band in Stockholm called Mauthausen. The band never released anything and only had a couple of gigs. Around 1988 Peter Åhrberg (vocals, guitar) joined the band, but they both soon got tired of the whole thing and after Peter made some songs which he wanted to release himself, he and Tomas formed The Solar Lodge. The name was taken from a song title by a weird band called Coil. During that time, Peter also worked with a hobby-group called Apa, and released a couple of singles on the Studio Otukt label (now Beat Butchers). Still 1988, this opened the door for The Solar Lodge to release their first single A Reflection (OR-S10). The single, taken from Peter's own recordings, did not make too much sound of itself, but got Peter and Tomas to look for a drummer. The result of their search was Pär Andersson (drums). By this time (still 1988), they started to play the clubs in Stockholm and got the attention they needed to release their second single The Sacrist (OR-S11). The single was the first more hard rock/heavymetaloriented recording released from the legendary metal-studio Sunlight with Thomas Skogsberg at the wheel. They also recorded the Mini-LP Swallow This! (OR-LP1) and "Car Crash baby" for a compilation CD at Sunlights Studios.
To get a heavier live-sound, the band looked for another member and found Fredrik Augustin (guitar) and started to tour the country. 1991 saw the birth of their third single Wild World (OR-S19) followed by a track "Car Crash Baby" on a compilation released by Sinderella, which was later included (in a re-recorded version in Beat Butchers' "house studio" Traxton Recordings) on their first full-length The World Is Yours (OR-CD6), released 1992. The full-length got really good reviews in the press. Södermanlands Nyheter wrote "The Solar Lodge does not take a step back from their rockmangling attitude with scratching guitars and force in the bass drums" The CD has sold about 900 copies today. By the time the full-length was to be recorded, Fredrik had quit the band, so they had to settle with Pär, Tomas and Peter during that time, though when the album was ready, Sven Fältin (guitar) (used to play with Nevskij Prospekt) joined and the band went on tour.
In september 1994, their second full-length Blow (OR-CD18) was released. Close Up wrote "Rock 'n Roll packed in a stainless steel cover. And with fragments of tough punk-attitude as well". After that they appeared on the Beat Butchers 10 År (OR-CD19) compilation with a cover of Magnus Uggla's "Varning På Stan". Their latest full-length CD, Fast Money Music, was released on April 9th, 1996, and got good reviews in the evening press.
The band sadly split up in April 1997, but re-formed with a new singer only four months later, under the name Whippet. Today Whippet is history as well. Some of the members can be found in the band Shemales and Ruffnutts nowadays.

In september 2004 the band was reformed for one gig at the Beat Butchers 20
year anniversy.
7" Singles



A Reflection, Beat Butchers 1988, ORS 10
1. A Reflection
2. Lions Mouth

The Sacrist, Beat Butchers 1988, ORS 11
1. The Sacrist
2. Looking For Jesus

Recorded at Sunlight by Tomas Skogsberg. The first recording that came from that studio.


Wild World, Beat Butchers 1991, ORS 19

1. Wild World
2. She Walks Alone

Albums, CDs & Mini LPs
Swallow This!, Beat Butchers 1989, ORML 1

1. I Walk The Line
2. Load & Shoot
3. Jesus (make me bleed)
4. Fields Of Fire
5. K.Y.W.
6. Burning
Recorded at Sunlight by Tomas Skogsberg.

The World Is Yours, Beat Butchers 1992, ORCD 6
1. Wild World
2. Spitfire
3. Speed
4. Sky
5. Car Crash Baby
6. Battleroom
7. She's Above
8. Crash & Die
9. The Sacrist (II)
10. T.W.I.Y
11. Firefly

Recorded and produced at Traxton Recording, Stockholm by Christian Edgren in march and may 1992. Cover and colour photos by Tomas Sandqvist. B/W photo by Ylva Johansson. Additional vocals on "Battleroom" by Anneli Sandberg.



Blow, Beat Butchers 1994, ORCD 18
1. Dog
2. Petrolhead
3. I Walk Alone
4. Stockholm Motor Lodge
5. Marble Orchard
6. Given By God
7. TV
8. Loser
9. Sleepless
10. Jesus Loves Me
11. Out Of Line

Recorded and produced at Thunderload Studios by Ragne and Styrbjörn Wahlquist. Cover by Tomas Sandqvist. Photo by Jonas Linell. Additional vocals by Fredrik Lardén and Anette Wallin. Piano by Ragne Wahlquist. All songs by The Solar Lodge.

Fast Money Music, Beat Butchers 1996, ORCD 27
1. Smashit
2. Remains
3. Hate
4. Lovetrust
5. I Don't Mind
6. Pride (In the name of love)
7. Instinct
8. The Big Sleep
9. The End

The nine songs on this CD is written by Sandqvist / Åhrberg / Fältin, except for song number 6 which the words is written by Bono and the music by U2 (Warner Bros. Music Ltd. / Bug Music). The recordings were done in late 1995 and early 1996 by Peter Åhrberg and produced by Torsten Rundqvist. The cover was made by Tomas Sandqvist.
Compilations
Sinderella The Swedish Stand 1989 (SIN001, CD 1989 ) Song: Car Crash Baby
Studio Otukt Rec. Presenterar (OR-LP2, LP 1990 Studio Otukt Rec.) Songs: She, See
Otukt På Långholmen (OR-K2, MC 1990 Studio Otukt Rec.) Songs: Fields Of Fire, Car Crash Baby, K.Y.W
Backstage Presenterar En Himla Massa Oväsen - Svensk rock 93 (BACK003CD, CD 1993 Backstage) Song: Stockholm Motor Lodge
Definitivt 50 Spänn Igen (RABB9302CD, CD 1993 RABB Records) Song: Spitfire
Definitivt 50 Spänn Tre (RABB9403CD, CD 1994 RABB Records) Song: Given by god
Another Real Cool Time - More Distorted Sounds From the North (FUZZ01, CD 1996 Fuzz Bomb) Song: "Hate"
Beat Butchers Promo 1996 (OR-PROMOCD1, CD 1996 Beat Butchers) Song: Smash Hit
Definitivt 50 Spänn #5 (RABB9608CD, CD 1996 RABB Records) Song: Smash Hit
Bjeagle presenterar stolt Beat Butchers 20 års jubileum (Bjeagle Records, BEAR 003 2004) med "Fields of fire", "Speed", "Spitfire", "Given by god", Car crash baby", "Wild world" och "The World is yours"