The Solar Lodge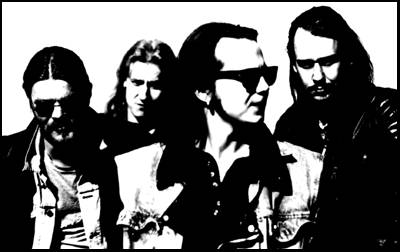 Runt 1987 så spelade Tomas Sandquist (bas) i Stockholmsbandet Mauthausen. Omkring 1988 så kom Peter Åhrberg (sång, gitarr) med i bandet, men båda två tröttnade efter ett tag. Peter hade spelat in några låtar som han ville ge ut och dom bestämde sig för att lämna Mauthausen och i stället starta ett eget band med utgångspunkt från dom låtarna. Namnet "The Solar Lodge" tog dom från en låt av det engelska bandet Coil. Peter spelade även med i bandet APA, som hade gett ut en skiva på bolaget Studio Otukt (numera Beat Butchers) och det öppnade dörren för att kunna släppa bandets första singel "A reflection" (OR-S10) redan samma år. Man började nu att leta efter en trummis och valet föll på Pär Andersson (trummor).
Bandet började spela flitigt runtomkring i Stockholmsområdet på ställen som Vita Huset, Tre backar, Hyndans Hörna och Cityhallen m.fl. Dom spelade även in singeln "The Sacrist" (OR-S11) och Mini-LPn "Swallow This" (OR-LP1). Båda dom spelades in av Tomas Skogsberg i Sunlight Studios och "The Sacrist" var den första riktigt råa releasen som kom därifrån.
För att få ett tyngre livesound så sökte man en till gitarrist och Fredrik Augustin (gitarr) kom med i bandet. Han var bara med en kort tid, men hann vara med på ett flertal spelningar (bl.a på Långholmen) och inspelningar (bl.a "See" och "She" till samlingsskivan "Studio Otukt Rec. Presenterar" och "Varning på Stan" som hamnade på samlingsskivan "Beat Butchers 10 år" (OR-CD19)) Kort efter det att Fredrik slutade så gick bandet in i studion igen och den här gången så föll valet på Christian Edgren i Beat Butchers "husstudio" Traxton Recordings. Resultatet blev "Wild World" (OR-S19) och fullängds-CDn "The World is Yours" (OR-CD6). "The World is Yours" fick goda recensioner och blev bl.a vald till månadens skiva i Close-Up.
The Solar Lodge spelade ett kort tag som en trio, men kort i samband med att "The World is Yours" släpptes så började Sven Fältin (guitar), med ett förflutet i bl.a Nevskij Prospekt i bandet. 1994 så släppte man CD:n "Blow" (OR-CD18). Skivan producerades av Ragne och Styrbjörn Wahlquist i Thunderload Studios. Bandets sista fullängdsskiva "Fast Money Music" (OR-CD27) släpptes i april 1996 och året efter så bestämde man sig för att lägga ned bandet. Man fortsatte tillsammans med Kajsa Hammarstrand under namnet Whippet under en kort period innan man lade ned helt.

Några av medlemmarna fortsatte att spela och idag kan man se dom i bl.a Shemales och Ruffnutts.

The Solar Lodge återförenades 1994 för en spelning på Beat Butchers 20-årsjubileum på Tantogården.
7" Singles



A Reflection, Beat Butchers 1988, ORS 10
1. A Reflection
2. Lions Mouth

The Sacrist, Beat Butchers 1988, ORS 11
1. The Sacrist
2. Looking For Jesus

Inspelad i Sunlight av Tomas Skogsberg. Den första inspelningen gjord i den studion.


Wild World, Beat Butchers 1991, ORS 19

1. Wild World
2. She Walks Alone

Albums, CDs & Mini LPs
Swallow This!, Beat Butchers 1989, ORML 1

1. I Walk The Line
2. Load & Shoot
3. Jesus (make me bleed)
4. Fields Of Fire
5. K.Y.W.
6. Burning
Inspelad i Sunlight av Tomas Skogsberg.

The World Is Yours, Beat Butchers 1992, ORCD 6
1. Wild World
2. Spitfire
3. Speed
4. Sky
5. Car Crash Baby
6. Battleroom
7. She's Above
8. Crash & Die
9. The Sacrist (II)
10. T.W.I.Y
11. Firefly

Inspelad och producerad i Traxton Recording, Stockholm av Christian Edgren i mars och maj 1992. Omslag och färgbilder av Tomas Sandqvist. Svartvita foton av Ylva Johansson. Kör på "Battleroom" av Anneli Sandberg.



Blow, Beat Butchers 1994, ORCD 18
1. Dog
2. Petrolhead
3. I Walk Alone
4. Stockholm Motor Lodge
5. Marble Orchard
6. Given By God
7. TV
8. Loser
9. Sleepless
10. Jesus Loves Me
11. Out Of Line

Inspelad och producerad i Thunderload Studios av Ragne och Styrbjörn Wahlquist. Omslag av Tomas Sandqvist. Foto: Jonas Linell. Kör av Fredrik Lardén och Anette Wallin. Piano av Ragne Wahlquist. All text & musik The Solar Lodge.

Fast Money Music, Beat Butchers 1996, ORCD 27
1. Smashit
2. Remains
3. Hate
4. Lovetrust
5. I Don't Mind
6. Pride (In the name of love)
7. Instinct
8. The Big Sleep
9. The End

Dom 8 låtarna på denna CD är skrivna av Sandqvist / Åhrberg / Fältin, förutom nr 6 text skriven av Bono musik av U2 (Warner Bros. Music Ltd. / Bug Music). Inspelad sent 1995 och tidig 1996 av Peter Åhrberg producerad av Torsten Rundqvist. Omslag: Tomas Sandqvist.
Samlingskivor
Sinderella The Swedish Stand 1989 (SIN001, CD 1989 ) Song: Car Crash Baby
Studio Otukt Rec. Presenterar (OR-LP2, LP 1990 Studio Otukt Rec.) Songs: She, See
Otukt På Långholmen (OR-K2, MC 1990 Studio Otukt Rec.) Songs: Fields Of Fire, Car Crash Baby, K.Y.W
Backstage Presenterar En Himla Massa Oväsen - Svensk rock 93 (BACK003CD, CD 1993 Backstage) Song: Stockholm Motor Lodge
Definitivt 50 Spänn Igen (RABB9302CD, CD 1993 RABB Records) Song: Spitfire
Definitivt 50 Spänn Tre (RABB9403CD, CD 1994 RABB Records) Song: Given by god
Another Real Cool Time - More Distorted Sounds From the North (FUZZ01, CD 1996 Fuzz Bomb) Song: "Hate"
Beat Butchers Promo 1996 (OR-PROMOCD1, CD 1996 Beat Butchers) Song: Smash Hit
Definitivt 50 Spänn #5 (RABB9608CD, CD 1996 RABB Records) Song: Smash Hit
Bjeagle presenterar stolt Beat Butchers 20 års jubileum (Bjeagle Records, BEAR 003 2004) med "Fields of fire", "Speed", "Spitfire", "Given by god", Car crash baby", "Wild world" och "The World is yours"